VajramahaŒbhairava - "Vajra who Inspires Fear" embracing his consort VidyŒadharŒa
See it in the Museum
Emporium
Orientation 1
Furniture 1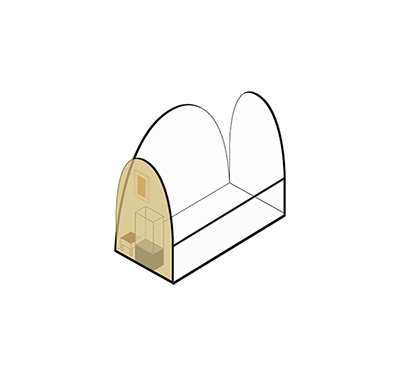 ABS 010
Code: ABS 010
Country: Tibet (central)
Style:
Date: 1400 - 1500
Dimensions in cm WxHxD: 18.2 x 23.3 x 18.2
Materials: Brass
Yamantaka

Yamantaka, the "Slayer of Death", also called Vajramahabhairava - "Vajra who instills great fear", in embrace with his companion Vidyadhara.

Yamantaka has nine heads, and his principal one is a buffalo head. Yamantaka is a wrathful emanation of the gentle Manjushri (Manjugosha), whose head is shown at the top. He has thirty-four arms and sixteen legs and strides out to the right (pratyalidhasana), trampling on a large number of human figures that represent inner demons. In his principal right hand he holds a ritual chopping knife (karttrika) and with his left main hand a skull cup (kapala). He is embracing his companion Vidyadhara, who holds the same attributes in her principal hands. 

Yamantaka is the most complex and terrifying of all wrathful Buddhist deities. It is in this emanation that Manjushri defeated the demon king of death, Yama, who depopulated Tibet in his insatiable thirst for victims. According to myth, Manjushri travelled to the underworld to seek out Yama, who dwelled with all his retinue in the sealed iron cities of hell. In Indian mythology, Yama is described with the head of a water buffalo. To defeat Yama, Manjushri took the same form and added eight more faces and a multitude of arms, each hand holding a fear-inspiring deadly weapon. He further added a corresponding number of legs and surrounded himself with a host of terrifying beings. In order to confront death, he manifested the very form of death itself, multiplied to infinity. Yama saw himself reflected endlessly and believed himself hopelessly outnumbered. Death was literally scared to death.

Through the visualisation of Yamantaka, practitioners intend to identify with him in order to overcome their fear of death. Each head, limb, attribute, symbol and ornament of Yamantakaexpresses the total mobilisation of the enlightenment skills necessary for this ultimate confrontation. 

Yama has, in contrast to Yamantaka, an ornament in the form of a wheel on his chest as is his distinguishing symbol.