Gold inlayed iron ritual vessel
See it in the Museum
Emporium
Orientation 1
Display 1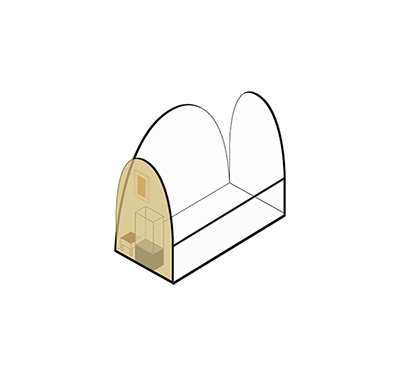 ABR 062
Code: ABR 062
Country: Tibet
Style:
Date: 1500 - 1600
Dimensions in cm WxHxD: 10.2 x 19 x 10.2
Materials: Iron
Ritual vessel

It is most likely that this vessel contained seeds or powder that were used in protective rituals to expel harmful forces. Vessels of this type can have perforated walls, and are sometimes divided into different compartments.

The lid is crowned by half a vajra surrounded at its base by lotus petals. Here, snakes divide the vessel into three levels. Broadly smiling skulls and faces are separated by scorpions on a dark background, which gives the design a filigree aspect. The symbolism of the scorpion has its origin in India, where it is an attribute of the goddess Chamunda. The poison of this insect stands for the destructive power of the deity, but it also has a healing and protective power. This is the reason why it is associated with rituals to subdue harmful forces. Swords with scorpion hilts or guards are attributes of the protective deities Begtse and Palden Lhamo, who were instituted by Padmasambhava as protectors of the land and of the Dalai Lamas. In his biography, Padmasambhava was referred to as the "scorpion-guru" after receiving the text of the phurba-transmission from a giant scorpion with nine heads, eighteen pincers and twenty-seven eyes (three in each head) in Rajgriha (the vast Indian charnel ground). The animal had unearthed the text, which was lying in a triangular stone box under a rock. When Padmasambhava read it, he recognized the heads, pincers, and eyes of the scorpion as vehicles of spiritual growth. According to this tradition, the scorpion can be equated with the ritual dagger phurba. In his wrathful appearance as Guru Dragpo or Pema Dragpo, Padmasambhava sometimes holds a scorpion.