Celestial residence of the protector Ma ning nag po a specific form of Mahakala
See it in the Museum
Emporium
Orientation 1
Wall object 1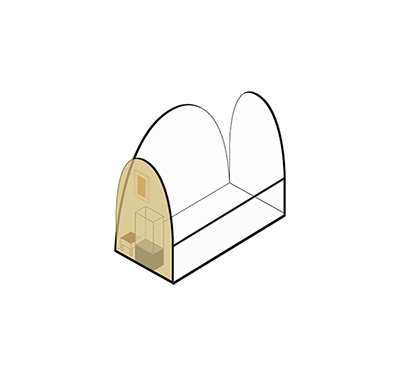 ABP 069
Code: ABP 069
Country: Tibet
Style:
Date: 1500 - 1600
Dimensions in cm WxHxD: 64.5 x 111
Materials: Pigment on cotton
Celestial residence of the protector Maning Nagpo, a specific form of Mahakala 

Maning Nagpo should be understood here as representing "primordial, non-dual wisdom". He is very popular with Nyingma practitioners.

He stands at the center of his palace in union with his consort upon a lotus throne and a sun disc, amidst a mass of blazing wisdom fire. He is surrounded by nine companions and stands on a skull fortress built of human heads in three stages: fresh, rotting and dried. On the middle floor stands a wrathful deity, and above, the primordial Buddha Samantabhadra is pictured.

Fearsome ornaments surround the building, like animal skins and other offerings, while wild animals devour bodies. Two tantric practitioners and their companions are depicted. An altar full of ritual artefacts, musical instruments and wrathful offerings stands before the composition.