Achi Chökyi Drölma
See it in the Museum
Chapel
Orientation 3
Display 5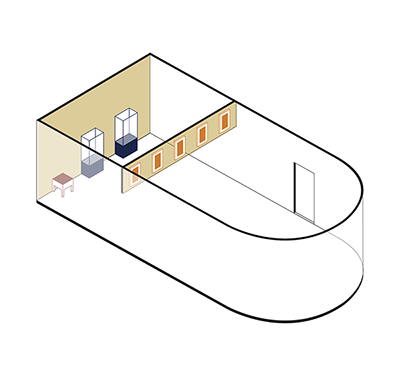 ABS 262
Code: ABS 262
Country: Tibet (central)
Style:
Date: 1600 - 1700
Dimensions in cm WxHxD: 7.5 x 8 x 3
Materials: White marble
Achi Chökyi Drölma

Achi Chökyi Drölma, the "Grandmother Chökyi Drölma", is a guardian deity of Tibetan Buddhism (dharmapala). She was born in the 11th century in central Tibet, chose her husband herself and had four sons, all of whom became famous ascetics and scholars.  She was a successful tantric practitioner and respected teacher. Her hagiography records that she vowed to be born again in samsara as a protector of Buddhist teachings (dharma) for the benefit of all sentient beings. It was her grandson Jigten Sumgön (1143-1217), the initiator of the Drigung Kagyu lineage, who further developed her worship and made her the main protector of her tradition. 

She has three eyes, is dressed in the style of Indian deities and rides on a blue horse. Her right hand wields a double-headed drum (damaru) and the left holds a skull bowl (kapala).