Avalokiteshvara Phagpa
See it in the Museum
Chapel
Orientation 3
Display 6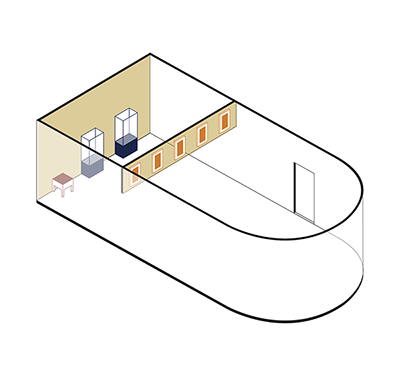 ABS 259
Code: ABS 259
Country: Tibet
Style:
Date: 1500 - 1600
Dimensions in cm WxHxD: 15 x 50 x 9.5
Materials: Wood with traces of pigment
Arya Lokeshvara

This wooden statue represents Avalokiteshvara, the bodhisattva of compassion, in a particular aspect. He stands almost straight, only showing a slight inclination in his upper body. He wears an imposing crown with three petals, the one in the centre bearing a similar image. His hair is divided into two thick plaits and he wears rectangular earrings. The rest of his jewellery is very discreet. His waist is cinched with a red fabric decorated with floral and geometric patterns that are visible on the back. His right hand is performing the gesture of generosity and his left hand is facing downwards.

This statue is a reproduction of the highly revered "Pakpa Chenrézi" or Arya Lokeshvara, "the noble lord of the world", which is kept in the Potala palace and is said to date back to the time of the first Tibetan emperor Songtsen Gampo(7th century). There are a number of reproductions of this statue made of wood, but also of ivory or metal.