Unidentified hermit meditating inside a mountain cave
See it in the Museum
Chapel
Orientation 3
Display 5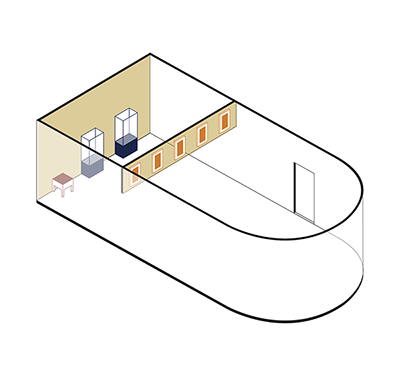 ABS 206
Code: ABS 206
Country: Tibet
Style:
Date: 1500 - 1600
Dimensions in cm WxHxD: 4.5 x 6.5 x 2.8
Materials: Brownish stone with remains colour
Unidentified hermit meditating inside a mountain cave - The six symbols of long life

At first sight, this small stone sculpture just depicts an idyllic scene. An old man with a white beard is sitting in a cave under a flowering tree and behind a flowing steam. A bird stands next to him. In fact, all these elements belong to a defined composition that represents the six symbols of long life. These include the old man, the Chinese deity of long life, the peach tree laden with fruit, the rock and the stream of long life, and the crane, known for its longevity. The only element missing here is the stag, which usually completes this ensemble.