Bodhisattva dressed with monk garments - carved by the Tenth Karmapa Chöying Dorje (1604-1674)
See it in the Museum
Chapel
Orientation 3
Display 6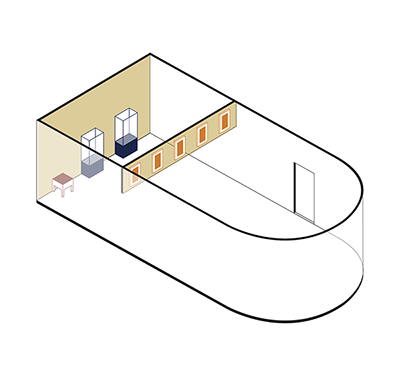 ABS 199
Code: ABS 199
Country: Tibet
Style:
Date: 1600 - 1700
Dimensions in cm WxHxD: 9.8 x 25.8 x 6.2
Materials: White sandalwood carved in four parts
Bodhisattva dressed with monk garments

This unusual sculpture carved from white sandalwood depicts a bodhisattva in a long monastic garment. He holds a bunch of twigs with one hand and a container with the other. One of his knees is slightly bent, and the other is straight, which lends him a slightly inclined posture. His hair is long and he wears jewellery. The pleated folds of his robe and the triangular cape on his shoulders are direct references to the ancient style of Kashmir (see ABS 365). His facial features, the two small devotional figures and the lush plant ornaments, however, show Chinese influence. This work is attributed to Karmapa Chöying Dorje (1604-1674), whose style is difficult to categorize. Other paintings by him in the collection are ABP 006, 011 and 058.

Bodhisattvas are the "heroes for enlightenment". These advanced practitioners are motivated by compassion, and strive to help all sentient beings to attain liberation on their path to perfect Buddhahood. Their royal adornments symbolise the quality of their spiritual realisation.