Gau travel shrine with Jambhala inside
See it in the Museum
Chapel
Orientation 3
Display 6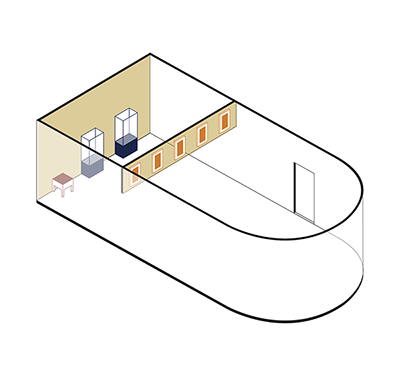 ABS 191
Code: ABS 191
Country: Tibet
Style:
Date: 1700 - 1800
Dimensions in cm WxHxD: 8.2 x 12.9 x 4.8
Materials: Gilt copper
Travel shrine (gau) for Jambhala (ABS 190) 

A gau is a container for a small statue representing a buddhist deity, or for a miniature painting (tsakli), or indeed it can be a container for relics such as bone fragments, hair, or fragments of clothing of deceased teachers. Likewise, lightening-struck metal (thokcha), mantras or healing herbs can be contained. The portable gaus are worn with a fabric or leather strap over the shoulder so that they may hang on the side, or in front of the chest. Worn close to the body, sometimes tied in the hair, such a container serves as a protecting amulet. A gau can normally be closed with a lid like a box and is embellished with gems like corals, turquoise or pearls. Larger specimens are rectangular, while the smaller ones are square, polygonal or round.