Portrait image of an unidentified young Tibetan monk
See it in the Museum
Chapel
Orientation 3
Display 5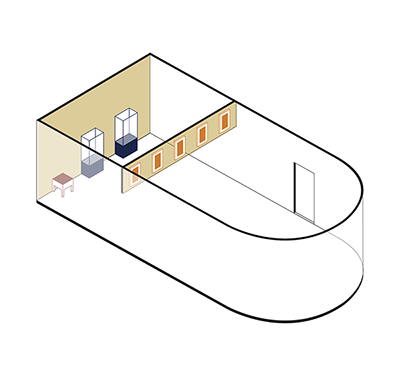 ABS 168
Code: ABS 168
Country: Tibet
Style:
Date: 1300 - 1400
Dimensions in cm WxHxD: 8.2 x 10.5 x 6.1
Materials: Dark grey stone
Portrait of a Monastic Teacher

This small stone statue depicts a young master in meditation on a lotus throne. A heavy cloak covers his monastic robe and legs. Prayer beads are wrapped around his left wrist. With both hands he holds them stretched out in front of his lower legs. The pointed headdress with lateral extensions of the scholars covers his head. Traces of gilding seem to indicate that the hat was yellow, which could identify this master as a member of the Gelug school. The absence of an inscription makes it difficult to identify him.