Gampopa Sönam Rinchen (1079-1153)
See it in the Museum
Chapel
Orientation 3
Display 6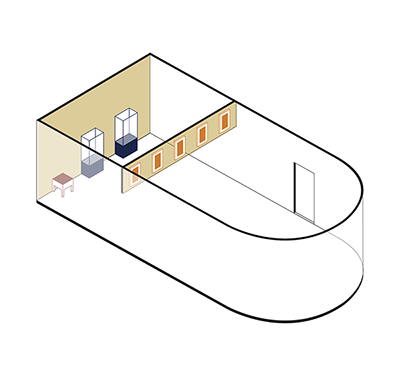 ABS 133
Code: ABS 133
Country: Tibet
Style:
Date: 1700 - 1800
Dimensions in cm WxHxD: 7.1 x 9 x 4.8
Materials: Lacquered wood
Gampopa (1079-1153)

Gampopa Sönam Rinchen is dressed in the triple monastic garments and wears the characteristic headdress of his lineage. He is seated in the diamond posture on a rectangular cushion, and performs gesture of meditative contemplation. 

Gampopa Sönam Rinchen, also known as Dagpo Lhaje ('physician from Dagpo'), was born into a family of physicians. After the tragic deaths of his wife and son, he decided to renounce the world and to take monastic vows. He was trained by Kadam masters and after learning of Milarepa's fame, he attended his teachings for a few months. On the advice of his master, he later founded a hermitage in the mountains, where he gathered many disciples around him, from whom the Kagyu school emerged. His teachings are characterised by a mixture of monastic Kadam teachings and tantric Kagyu teachings.

Along with Marpa and Milarepa, Gampopa is considered to be the third founding father of the Kagyü school of Tibetan Buddhism.