Dromtönpa Gyelwe Jungne (disciple of Atisha)
See it in the Museum
Chapel
Orientation 3
Display 6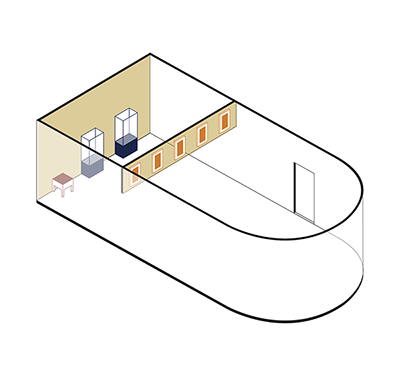 ABS 052
Code: ABS 052
Country: Mongolia
Style:
Date: 1700 - 1800
Dimensions in cm WxHxD: 9.9 x 14 x 7.8
Materials: Painted wood
Dromtönpa Gyelwe Jungne

Dromtön Gyelwe Jungne was born in 1004 or 1005 in Tolung. Thus, he came into this world at the beginning of the second propagation of Buddhism in Tibet. His father bore the title of skugshen, which can be regarded as an indication that he was an important figure in the Bön tradition. Dromtön became a principal disciple of Atisha, and began teaching in 1042. Although he took lay vows, he was never ordained. Nevertheless, he became not only the founder of the Kadam school of Buddhism, but also of Reting monastery in 1056 north of Lhasa, where he died in 1064.  He is considered to be the 45th incarnation of bodhisattva Avalokiteshvara.

The statue is carved in one piece and is covered with painted decoration. 
Dromtönpa is seated in the diamond attitude (vajraparyankasana) on an animal skin that lies on a rectangular pedestal. He is clad in several layers of lay garments that cover both shoulders. His right hand is uplifted in the gesture of argumentation (vitarka-mudra), and with his left hand he holds a manuscript (pustaka).