Mask of Nyima Öser, manifestation of Padmasambhava
See it in the Museum
Chapel
Orientation 3
Wall object 2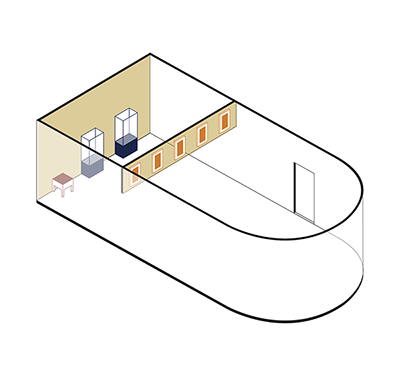 ABR 085
Code: ABR 085
Country: Tibet
Style:
Date: 1700 - 1800
Dimensions in cm WxHxD: 23.5 x 44 x 15.5
Materials: Wood
Mask of Nyima Öser, manifestation of Padmasambhava

This mask that resembles a ritual dance mask, and depicts a yogi with Indian features, with arched nose and full lips. His eyes are wide open, his forehead and nose crinkled. The face is yellow in colour and framed by a beard. The long hair is tied into a topknot, crowned by a half vajra. He wears a diadem of five dried skulls. All these elements correspond to Nyima Öser, also called " Ray of the Sun". He is one of the eight manifestations of the famous Indian tantric master Padmasambhava. In this Yogi aspect, he received and practised the Tantric teachings in the Indian charnel grounds. Normally, dance masks do not have holes in the eyes, but at the level of the mouth, as dancers are not allowed to look through the eyes of the deity.