Bear (?) - ritual mask
See it in the Museum
Chapel
Orientation 3
Wall object 5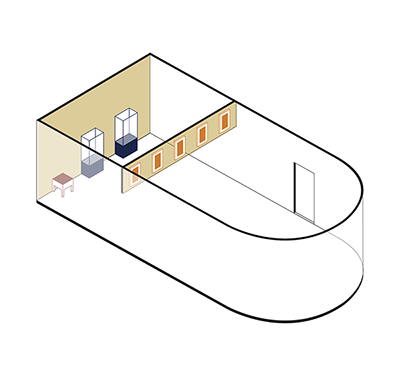 ABR 082
Code: ABR 082
Country: Tibet
Style:
Date: 1700 - 1800
Dimensions in cm WxHxD: 17.5 x 27 x 22.5
Materials: Wood
Ritual mask of a bear
 
Masks play an important role in shamanic practice. Shamanic practices of the pre-Buddhist Bön religion have been integrated into Mahayana Buddhism.
In the Tibetan, Nepalese, Indian and Buthanese cultures of the Himalayas, masked ritual dances became part of the religious practice in buddhism at certain festival times. These ritual dramas (called cham) often last during several days. Usually, these dances are performed by monks. According to tradition, the cham-dances are traced back to Padmasambhava. He is considered to be the "author" of the Tibetan Book of the Dead. Accordingly, peaceful and wrathful deities that the soul of the deceased encounters during its 49-day stay in the afterworld (bardo), are personified. Thus, the living are familiarised with what is to be encountered after death. 
Certain masks may only be shown on a certain day of the year, and otherwise remain veiled to preserve their power. But animals like this bear, as well as clown-like figures for the amusement of the crowds, also play an important role during the cham-dances.