Temple (model)
See it in the Museum
Chapel
Orientation 3
Display 6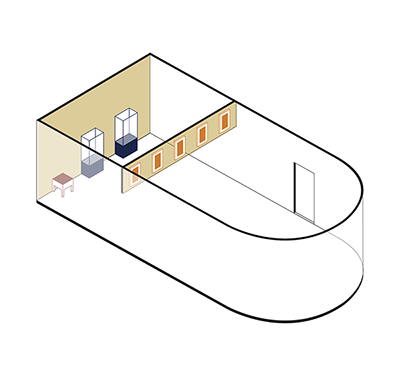 ABR 036
Code: ABR 036
Country: Tibet
Style:
Date: 1300 - 1400
Dimensions in cm WxHxD: 20.5 x 17.7 x 11
Materials: Wood
Miniatur tempel-shaped altar

This miniature wooden altar reproduces the shape of a temple with a Chinese roof of glazed tiles. Inside, bodhisattva Avalokiteshvara is depicted in gold in the centre, accompanied by his two companions Manidhara and Shadakshari.
The left wall features the historical Buddha Shakyamuni, and the right Bhaishajyaguru, the master of remedies and of healing. The exterior shows five dancing goddesses with offerings suspended above them. Small indentations on the front of the temple indicate the missing doors, on which further figures would have been depicted, as the traditional series consists of eight goddesses or other representations. Two metal rods with eyelets enclose the sides. This altar was certainly meant to house a small statue of a master or deity.