Ritual bell with diamond sceptre handle (vajraghanta)
See it in the Museum
Chapel
Orientation 3
Display 6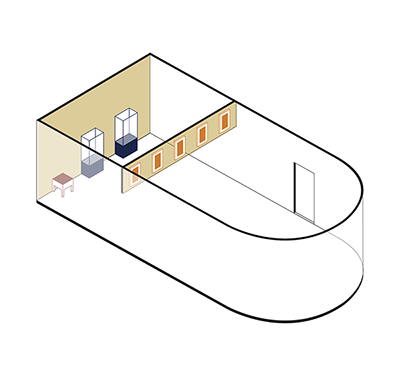 ABR 024
Code: ABR 024
Country: Tibet
Style: Sino Tibetan
Date: 1400 - 1500
Dimensions in cm WxHxD: 10.4 x 22.8 x 10.4
Materials: Brass
Ritual bell with diamond sceptre handle (vajraghanta)

The ghanta (Skt.), known in Tibetan as Dril bu (Tib.) («dribu») represents a "bell, prayer-bell". It symbolizes the female principle of the transcendent void as a symbol of absolute wisdom. N.B. when the bell is surmounted by a vajra, it is called vajraghanta. It forms a pair with the vajra that symbolizes the male principle. 

Bibliography: von Schroeder, Ulrich and von Schroeder, Heidi. Tibetan Art of the Alain Bordier Foundation. (Visual Dharma Publications, 2009); pp. 34-35; plate 11.