Chakrasamvara with Vajravarahi
See it in the Museum
Chapel
Orientation 1
Wall object 3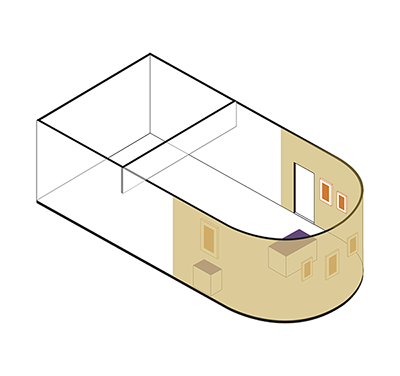 ABP 050
Code: ABP 050
Country: Tibet (south)
Style:
Date: 1400 - 1450
Dimensions in cm WxHxD: 35 x 42
Materials: Glue distemper on cotton
Chakrasamvara and Vajravarahi 

Chakrasamvara and Vajravarahi are engaged in a passionate embrace. They possess a powerful aura of energy, symbolized by a fiery aureole. Chakrasamvara's four distinctly coloured faces bear equally intense, ferocious expressions, each representing a unique Buddha wisdom. The principal panel of Chakrasamvara and his consort is surrounded by sixty-two deities including those being part of the Chakrasamvara mandala.
Chakrasamvara is lunging to the left, crushing the bodies of the brahamanical deities Kalaratri (proper right) and Bhairava (proper left) prostrate on the lotus pedestal. Kalaratri and Bhairava are Chakrasamvara's own emanations. Thus, the deity's position of power over them signifies his victory over all forms of egotism. The four-headed and twelve-armed Chakrasamvara holds a five-pronged diamond scepter (pancasucika-vajra) and a prayer bell (vajraghanta) in his two principal hands. These are turned inwards and crossed in front of his chest to embrace his consort Vajravarahi (Tib.: Dorje Phagmo). She wraps her legs around his hips and gazes upward to meet the intensity of his gaze. With her arms around his neck, her hands hold a vajra and a skull-cup (kapala). Each figure is adorned with pancamudra ornaments carved of human bone. Chakrasamvara in addition wears a mundamala, a long garland of severed heads, which shows his victory over egotism. Symbolizing his triumph over evil, a series of attributes are displayed in Chakrasamvaras remaining hands: the uppermost pair stretches the hide of the mad elephant of ignorance behind his back; the next pair holds a staff(kathvanga) and drum; the next a kapala and axe; the next a lasso and vajra flaying knife, and finally at the bottom a four-faced head of Brahma and a trident.