Le Bouddha d'Azur – Planche 116
See it in the Museum
Chapel
Orientation 1
Wall object 27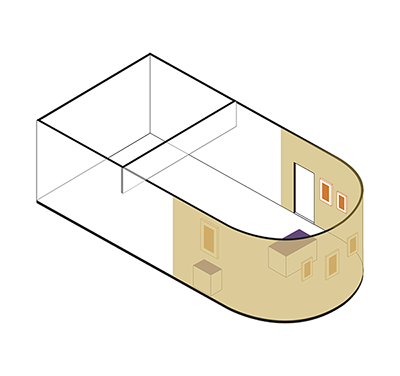 ABE 016
Code: ABE 016
Country: Switzerland
Style:
Date: 2005
Dimensions in cm WxHxD: Unknown
Materials: Reproduction couleur
This drawing gave Cosey a real hard time. Willing to represent the Buddha's face in counter-relief, he soon had to deal with the human brain persisting, despite his numerous efforts, to see the image in relief.
 
In the museum, a great number of Buddha's representations are exposed. They can be recognized to the 32 major marks proper to a "great being" (cranial protuberance, distended earlobes, tuft of hair between the eyes, and so on). A beautiful example is the statue to the left near the stairs (ABS 009).
Like ritual objects, statues can be made of a variety of materials: metal, wood, stone, clay, ivory, bone, horns…
 
Raw clay was the most common material used for sculptures in the Himalayas for centuries, and even if technics have evolved as time goes by, clay statues are still produced in the area. The traditional method uses clay, paper and water to model hollow statues. Limbs, head, and ornaments are molded separately then attached to the statue. Finally, the statue is painted and filled in with the proper materials for consecration.
Stone and wood are used to create three-dimensional objects, although stone is less common. Both materials are sculpted and sometimes painted. As explained earlier, wood is also used to produce book covers and printing boards for xylography, producing texts, images, prayer flags, etc. 
 
For more than a millennium, metal has been the predominant material used to produce statues in the Himalayas, mostly using two methods: casting with the lost wax technic, and hammering metal sheets (or repoussé). Nepal is specialized in both technics, and its influence reached as far as China. Nepal craft workers and artists organized in workshops continually produced for both Buddhist and Hindu patrons. Casting metal is the most widespread technic for statues although larger models requires the use of hammering. For metal statues, the finishing stage is the gilding, which can be of two types: fire gilding with mercury or cold painted gold (mainly for the faces). Precious or semi-precious inserts are also quite common.