Le Bouddha d'Azur – Planche originale 29
See it in the Museum
Chapel
Orientation 1
Wall object 26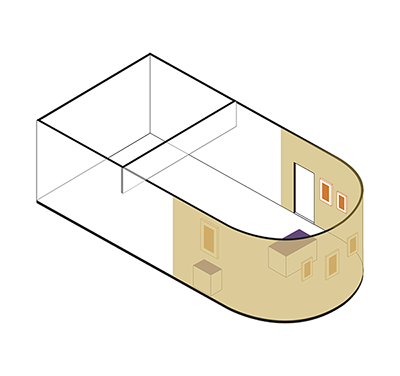 ABE 015
Code: ABE 015
Country: Switzerland
Style:
Date: 2005
Dimensions in cm WxHxD: Unknown
Materials: Encre de Chine sur papier
Chapels in monasteries shelters rituals and prayers as well as the daily reading and study of sacred texts.
Tibetan Buddhism classifies three types of supports connected to the Buddhas:
- body support (gathering every physical representations)
- speech support (religious texts)
- mind support (stupas) 
Commissioning these religious supports is a great source of merit for the patron, the dedicatee, and the artist and craft worker. The higher the cost, the greater the merit.

Manuscripts and printed books belong to the speech support. It gathers the words of the Buddha (sutra) but also of the treaties, teachings and commentaries of Buddhist teachers. The oldest Tibetan manuscripts date from the Imperial period, as those of Dunhuang (8th-9th centuries). The traditional format is the pecha inspired by Indian manuscripts on palm leaves. They have a specific, rectangular and elongated shape, no binding (except some rare examples with two strings placed into holes) and are kept between two wooden book covers which can be painted or engraved. Ink is mostly black but sometimes they use colored inks (gold, red or silver). On the richest volumes one can find illuminations.

Xylographic print was imported in Tibet from the 12th century on, generalizing around the 15th century. It consists of wooden boards engraved with the text in reverse. The board is inked and then pressed against the paper.

The Tibet Museum displays in the chapel a 15th century extraordinary manuscript (ABM 039) nicknamed "the Dark Treasury" and presenting an original version of the life story and the spiritual songs of the famous yogin Milarepa.