Le Bouddha d'Azur – Planche originale 38
See it in the Museum
Chapel
Orientation 1
Wall object 23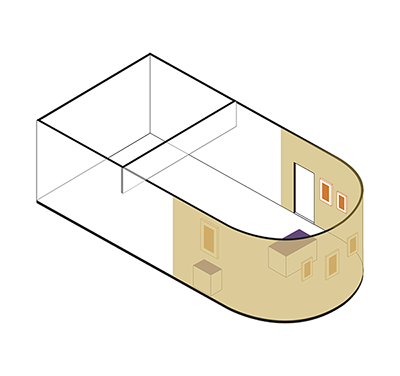 ABE 012
Code: ABE 012
Country: Switzerland
Style:
Date: 2005
Dimensions in cm WxHxD: Unknown
Materials: Encre de Chine sur papier
The fifth frame represents a typical chapel of a monastery. These chapels contain objects and statues of different size, from few centimeters to tens of meters. What may strike an unaccustomed visitor is the apparent absence of aesthetic criterion.

Statues, as well as all other religious representations, always figure characters according to a codified iconography, with bodies displaying specific postures (asanas) and hands performing ritual gesture (mudras). According to the context, mudra can designate a symbol, a gesture or a mystical consort. As gestures, these hieratic hand positions are a non-verbal manner of communicating.
The major mudras are: 
- dhamarchakra (teaching or "setting in motion the wheel of the Doctrine")
- vitarka (argumentation)
- namaskar/anjali (salutation or veneration)
- bhumishparsa (taking the earth as witness)
- dhyana (contemplation)
- tarjani (threatening gesture), and so on. 
 
Some asanas are sitting posture (lotus, ease, noble attitude…), other are standing postures (equal, dance, walk, right or left split…) with some static and other dynamic.