Six-armed Mahakala known as Shadbhuja Mahakala
See it in the Museum
Chapel
Orientation 1
Wall object 8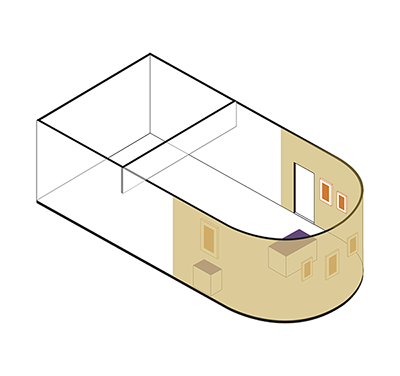 ABP 013
Code: ABP 013
Country: Tibet or china
Style:
Date: 1600 - 1700
Dimensions in cm WxHxD: 46.5 x 59.5
Materials: Silk Embroidery Thanka
Six-armed Mahakala known as Shadbhuja Mahakala

The six-armed and three-eyed form of Mahakala (Tib.: mGon po phyag drug pa) («gönpo chag drugpa») also known as Shadbhuja Mahakala, tramples on the Hindu god Ganesha. In the upper right hand Mahakala holds a skull garland (mundamala), in the upper left a trident (trishula). The principal hands hold a chopper (karttrka)and a skull-cup (kapala); the lower right a double drum (damaru), the lower left a noose (pasha).