Pair of deer commemorating the First Sermon
See it in the Museum
Chapel
Orientation 1
Standalone object 5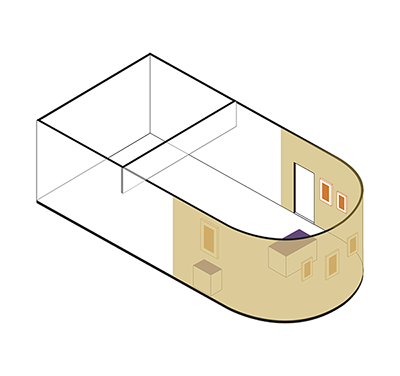 ABS 230
Code: ABS 230
Country: Mongolia
Style:
Date: 1800 - 1900
Dimensions in cm WxHxD: 67.5 x 100.5 x 30.5
Materials: Gilt copper
Pair of deer commemorating the First Sermon 
This pair of deer commemorates the First sermon of the historical Shakyamuni in the Deer Park

(Rsipatana Mrgadava) at Sarnath (North India). In Indian Buddhist art it has been since the Gupta times custom to depict Buddha Shakyamuni with a pair of deer when the First sermon is depicted. From northern India this theme spread to Nepal, Tibet, and further till China and Mongolia. Pairs of deer assembled from gilt sheets of hammered copper, decorated many rooftops of the large monasteries.