Ma–njughosa - the "Gentle Voice"
See it in the Museum
Chapel
Orientation 1
Plinth 2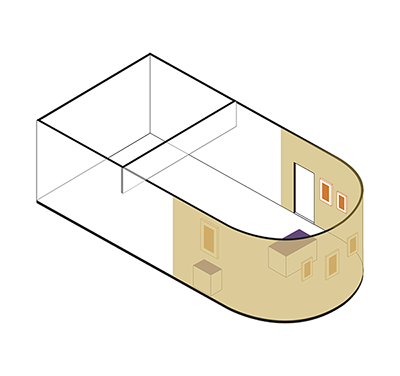 ABS 174
Code: ABS 174
Country: Tibet
Style: Nepalese School
Date: 1200 - 1300
Dimensions in cm WxHxD: 41 x 68 x 23.1
Materials: Gilt copper alloy
Manjughosa - the "Gentle Voice" - with the "gesture of the wheel of the doctrine" (dharmacakra-mudra)

Manjughosa (the gentle voice), is a form of boddhisattva Manjushri, a deity of which descriptions of almost fifty forms are known.  He represents the wisdom (prajna) of all the Buddhas. He is gracefully seated, slightly bent, in the diamond attitude (vajraparyaskasana) and was originally placed on a separately cast lotus pedestal, which has unfortunately been lost. With his hands he forms the "gesture of setting in motion the Wheel of the Law" (dharmacakra-pravartana-mudra). Originally, he held the stalks of two blue lilies in his hands. On each their blossoms would rest one of his two major attributes: the sword (khadga) of discerning knowledge and the manuscript (pustaka) of transcendent and perfect wisdom. This wisdom consists in the recognition of the voidness of all phenomena, which leads to the liberation from the wheel of rebirths. These attributes have unfortunately equally been lost. Boddhisattva Manjugosha is clad in a cloth tied by a belt around the hips. He wears ornaments, namely a five-leaved crown, two necklaces with attached pendants, bracelets on the upper arms and wrists, ankles, and feet. The emblem on the forehead is possibly a ratnayupa. The elaborately worked jewel ornaments are inset with turquoise, coral, lapis lazuli, and rock crystal. This large statue was probably manufactured in Tibet during the 13th century by a Newar artist from the Kathmandu valley. It was cast in several parts and then assembled. 

Formerly this statue was exhibited at the Cranmore Ethnological Museum, Chislehurst, Kent U.K., that was founded by Harry G. Beasley (1882-1939). There is a possibility that this image was brought to England from Tibet by a member of the Younghusband expedition (1903-1904).


Bibliography: Graves, Son & Pilcher's. 1975. Ethnographic & Tibetan Art. [Auction held at the Palmeira Auction; 3rd March 1975], lot 57, plate 4: Nepalese. von Schroeder, Ulrich and von Schroeder, Heidi. Tibetan Art of the Alain Bordier Foundation. (Visual Dharma Publications, 2009); pp. 30-31; plate 9.