Manuscript cover decorated with three Buddhas seated in meditation attitude
See it in the Museum
Chapel
Orientation 1
Wall object 7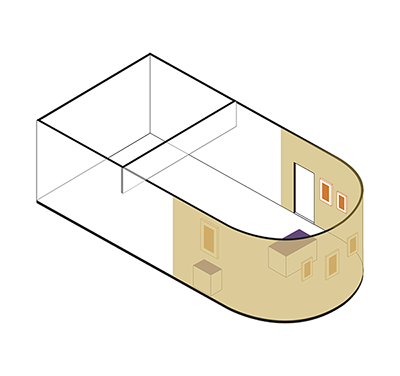 ABM 033
Code: ABM 033
Country: Tibet
Style: Nepalese School
Date: 1200 - 1300
Dimensions in cm WxHxD: 69.5 x 21.5 x 1.5
Materials: Gilt copper
Manuscript cover decorated with three Buddhas seated in meditation attitude (samadhi) 

The group of three Buddha images may also be associated with the Mahayanist perception of the three-fold essence of the Buddhas, the "three bodies" (trikaya), known as dharmakaya, sambkogakaya and nirmanakaya (or rupakaya).

Another association may be the three-fold nature of Buddhism, namely buddha, dharma, and sangha. This example of the different meanings of the number three in Buddhism serves as a warning against narrow definitions of symbols that exclude other possibilities.