Avalokiteshvara Sahasrabhuja
See it in the Museum
Aisle
Orientation 1
Wall object 2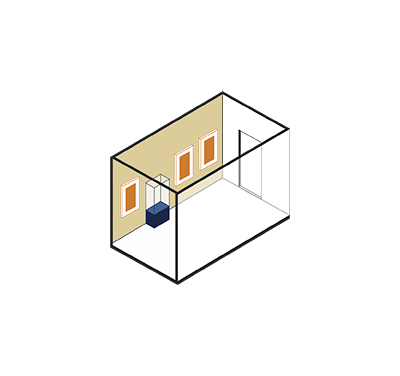 ABP 004
Code: ABP 004
Country: Tibet
Style:
Date: 1300 - 1400
Dimensions in cm WxHxD: 47.5 x 58
Materials: Gouache on cotton
Avalokiteshvara Sahasrabhuja

This large painting represents Bodhisattva Avalokiteshvara under his "thousand-eyed and thousand-armed" (sahasrabhuja) aspect. His skin is "white like a snowy mountain in the morning sun". His eleven faces are arranged on five planes, and are crowned by the head of Amitabha, the chief of the lotus family. The first four pairs of hands hold a lotus, a bow with an arrow and a jar on his left, and on his right, they hold a prayer chain, a wheel, and one hand shows the gesture of gift-bestowal. The fourth pair of hands forms the greeting gesture (anjali-mudra). The remaining 992 hands are arranged in a circle, each hand featuring an eye. These "seeing hands" symbolise the compassion of Avalokiteshvara, which extends in all directions to all sentient beings. Avalokitshvara Sahasrabhuja is surrounded by numerous representations of monks and various peaceful and wrathful deities of the Buddhist pantheon.