Dolpopa Sherab Gyaltsen(1292-1361)
See it in the Museum
Aisle
Orientation 1
Display 1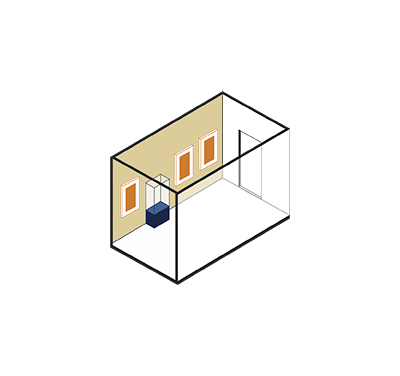 ABS 177
Code: ABS 177
Country: Tibet
Style:
Date: 1400
Dimensions in cm WxHxD: 13.8 x 16.3 x 10.2
Materials: Brass; extensively inlaid with silver and copper
Dolpopa  (1292-1361) 

This statue represents Dolpopa Sherab Gyaltsen (1292-1361), a highly influential and controversial Tibetan Buddhist master. He was simply named Dolpopa, or "the Buddha from Dolpo". The Dolpo is a region of Nepal. Dolpopa ran away from home when he was seventeen in order to seek Buddhist teachings, first in Mustang, and then in Tibet where he studied as Sakya Monastery. He became famous for his emphasis on two definitions of the Buddhist teaching of emptiness: the "emptiness of self-nature", which applies only to the level of relative truth, and "emptiness of other", which applies only to the level of absolute truth. This teaching was highly controversial. In fact, the entire corpus of Dolpopa's writings was completely suppressed by the dominant Gelukpa order for several hundred years, although it is sometimes claimed that this suppression was equally due to political, as for doctrinal reasons. Nevertheless, Dolpopa became one of the most influential and original of Tibetan teachers of Buddhism. He is considered to be one of the greatest exponents of the Kalachakra or "Wheel of Time", and he is the builder of a large stupa at Jonang, completed in 1333. It was a massive undertaking and support flowed in from around Tibet. It was finally consecrated in 1333 as the largest stupa temple in Tibet. Dolpopa appointed the translator (Lotsawa) Lödro Bal to succeed him. Lödro Bal remained in this role for seventeen years.

Dolpopa is seated in the diamond attitude (vajraparyankasana) on a double lotus pedestal with an upper beaded border. He rests the right hand on his leg, and in the left he holds a rosary (akshamala). He is clad in an array of monastic garments (civara) prominently decorated with floral and geometric patterns worked in an unusual relief fashion. He wears a hat, and his face retains traces of painted cold gold. The back of the pedestal is decorated with the astamangala emblem or the " collection of eight auspicious objects". 

There are two almost identical images of Dolpopa in the Jokhang / Tsung Lakhang Collection. The dissimilarity in the ornamentation is a proof that both statues were modelled by hand, and that the use of matrices can be ruled out. An ornamentation similar in many respects decorates the robe of an image of Thangtong Gyalpo (1361-1485 or 1385-1464), who according to its inscription, made this statue of Dolpopa himself. All three statues certainly belong to the same artistic tradition and one might be tempted to attribute the other two statues of Dolpopa also to the workshop of Thangtong Gyalpo. Considering that Thangtong Gyalpo was born in the year of Dolpopa's death, and that he is considered to be a reincarnation of the latter, such an assumption would not be out of reach.