Chaturmukha lingam
See it in the Museum
Room 1: India and Nepal
Orientation 5
Plinth 2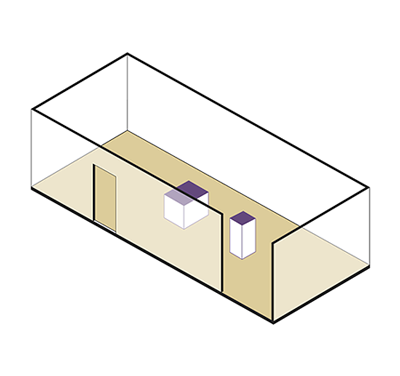 ABS 321
Code: ABS 321
Country: India (north-east)
Style: Late Pala Style
Date: 800 - 900
Dimensions in cm WxHxD: 35 x 44 x 35
Materials: Basalt
'Chaturmukha' or lingam with four faces

Shiva is one of the three main deities in Hinduism. He simultaneously symbolizes creation, destruction and transformation. The word lingam means "sign" or "symbol". It is the sign which expresses the essence of Shiva. Shiva is also called "primordial being" or "seed of the universe". The lingam as a phallic symbol appears under three aspects. The square outline in the base represents Brahma as the first aspect. The second aspect is octagonal and is enclosed by the yoni. The yoni represents as the vulva as the seat of the female energy, as well as the deity Vishnu. The upper aspect visible here is cylindrical and represents Shiva, the fertile life energy of the universe. 
The four faces symbolize the four aspects of Shiva, as well as the four elements: Sadyojata (the creator) - earth; Vamadeva (the preserver) - water;  Aghora (the destroyer) - fire; Tatpurusha (the dissimulator) - wind. 
The traditional lingam rituals in Shiva temples include offerings of flowers, grass, dried rice, fruits, leaves, water and milk baths. Devotees circumambulate the sanctum in a clockwise direction.