Standing Buddha Maitreya
See it in the Museum
India and Nepal
Orientation 3
Display 2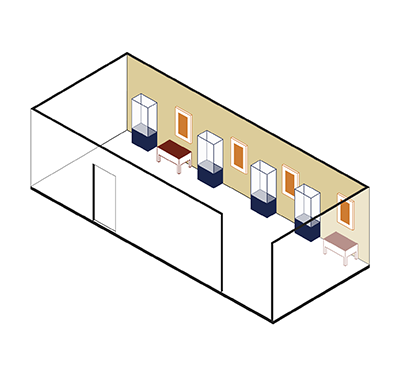 ABS 366
Code: ABS 366
Country: India (north-west)
Style: Utpala Dynasty
Date: 850 - 1050
Dimensions in cm WxHxD: 15
Materials: Brass
Maitreya, the buddha of the future, is usually shown either standing or sitting on a throne with both feet touching the ground. The stupa on top of his aureole is also his identifying feature. His eyes and the urna (third eye) are inlaid with silver, a characteristic of kashmiri works of art of the 9th/10th centuries.

Maitreya stands gracefully in a slightly bent attitude (abhanga) on a double lotus pedestal with elongated petals placed on a square base. His right hand is raised in the gesture of protection (abhaya-mudra), and with the left hand he displays the gesture of giving (varada-mudra). The upper monastic garment (uttarasanga) is draped in symmetrically distributed narrow folds and covers both shoulders. The lower garment (antaravasaka)is visible. The Buddha is set against an oval aureole decorated with rays (prabhamandala).
 
This statue was formerly part of the collection of Heidi and Ulrich von Schroeder, 2017-01.