Crowned Buddha Shakyamuni
See it in the Museum
India and Nepal
Orientation 3
Display 2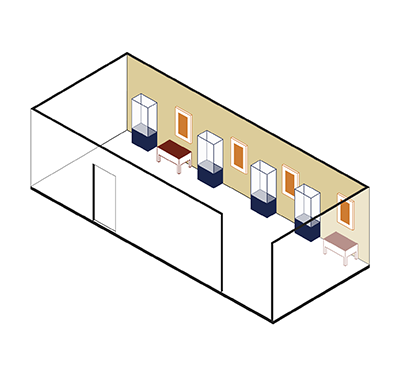 ABS 365
Code: ABS 365
Country: India (north-west)
Style: Karkota Dynasty
Date: 750 - 850
Dimensions in cm WxHxD: 22.3
Materials: Brass
Crowned Buddha Shakyamuni

Brass with dark surface; cast in one piece - partly hollow. The eyes and the urna are inlaid with silver, the lips perhaps with copper. The face has remains of painted cold gold applied later in Tibet. The bottom of the pedestal is not sealed. 

The standing, crowned Buddha Shakyamuni stands in gracefully bent attitude (abhanga) on a single lotus pedestal mounted on a rectangular, stepped base. His right hand is raised in the gesture of protection (abhaya-mudra), the lowered left hand holds the hem of the monastic robe. The border of the lower garment (antaravasaka) is visible. The Buddha wears a three-leafed crown, earrings and a necklace with attached pendants. The upper monastic garment (uttarasanga) is draped in few folds and covers both shoulders. Over it, Buddha Shakyamuni wears a cape with a beaded border and tassels. The triangular panes of the cape are characteristic of works commissioned in and during the Patola-Shahi rule of the 8th century located in the Baltistan/Gilgit areas of present-day Northern Pakistan. Also characteristic of this area and period are the silver inlays of the eyes and the urna (the Third Eye). The lips are highlighted with copper. Equally worthy of special interest are the effulgences above the shoulders in the shape of a crescent cradling a rosette, symbolizing the union of the moon with the sun, and the liberation from samsara. A similar design is repeated threefold in the leaves of the crown. 
Originally, a separately cast aureole (prabhamandala) was attached to a tenon at the back of the head. An inscription on the front and sides of the base informs us that this statue was a pious gift from a lay woman named Lalitaka together with her parents. 
 
This statue was formerly part of the collection of Ulrich von Schroeder, 2019-06.