Manjushri
See it in the Museum
India and Nepal
Orientation 3
Display 4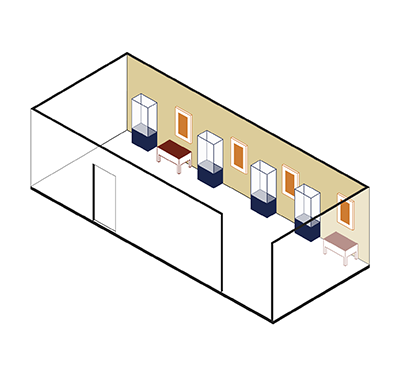 ABS 360
Code: ABS 360
Country: India (Kurkihar, Bihar)
Style: Late Pala Style
Date: 1000 - 1100
Dimensions in cm WxHxD: 8 x 13 x 3.2
Materials: Bronze
Manjushri Simhanada
 
Simhanada Manjugosha is a manifestation of bodhisattva Manjushri. He sits on a lion in the posture of royal ease (rajalitasana).  With his hands he forms the mudra of the teaching (dharmachakra mudra).

In Buddhism, lions are a symbol of the Buddha Shakyamuni and the bodhisattvas, the "descendents of the Buddha" or "Buddha's lions". In the iconography we find them in their role of dharma protectors supporting the throne of the buddhas and bodhisattvas. Examples are the Medicine Buddha, Vairochana, Ratnasambhava, Manjushri, Vaishravana as well as Prajnaparamita, the green Tara and Tashi Tseringma. They are also found in pairs, guarding the entrances of monasteries and shrines or gravesites. 

In Nepal and Tibet however, the lions have become "snow lions". In these mountainous regions there are no actual lions, but snow leopards. Snow lions are mythical creatures depicted in white or blue colour with a turquoise or orange mane floating in the wind. They are bearing a wrathful expression with eyes and mouth wide open. Freely they roam in the high snowy mountains, symbolising the wisdom, fearlessness and sacred dignity of those dharma practitioners who live in the pure mind, free of any delusions. They subdue all beings with their great love, compassion and wisdom.