Khadiravani-Tara attended by Marici (r.) and Ekajata (l.)
See it in the Museum
India and Nepal
Orientation 3
Display 3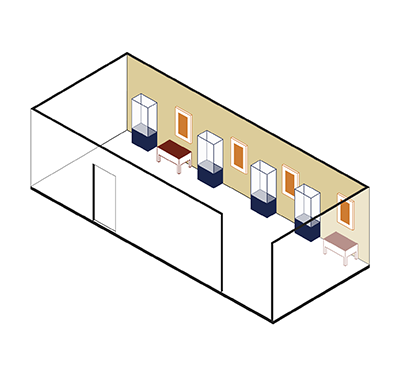 ABS 338
Code: ABS 338
Country: Tibet
Style:
Date: 1400 - 1500
Dimensions in cm WxHxD: 4.5 x 6.3 x 4.4
Materials: Gilt copper
Khadiravani Tara with Marichi and Ekajata

The goddess Tara is seated in the posture of ease on the pistil of a lotus blossom, her right foot resting on a flower. With her right hand she performs the gesture of generosity, and with her left hand she holds the stem of a lotus bud that is resting on her shoulder. Young and beautiful, she wears the royal finery of the appearance in the body of perfect rapture. In this particular attitude and manifestation, Tara has a green complexion, and is called Green Tara (Shyama Tara in Sanskrit).

On either side of the goddess sit her attendants. On her right sits the peaceful Ashokakanta Marichi, her colour is yellow and she is holding a vajra. On her left sits Ekajata, whose appearance is wrathful. She is holding a flaying knife and a skull cup and her colour is blue. When she is accompanied by these two attendants, Tara is called Khadiravani Tara, "The liberator of acacia wood". Tara is considered the embodiment of the compassion of Avalokiteshvara. Her worship is widespread in Tibet and throughout Asia.

For this statue, Tara was made of gilded copper, her blue-coloured hair contrasting with the brown copper of the lotus base and the two figures surrounding her.