Yogini Machik Labdrön (1055-1149) - the founder of the Chö technique of liberation
See it in the Museum
India and Nepal
Orientation 3
Display 5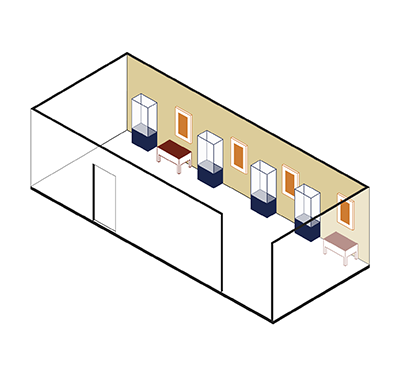 ABS 252
Code: ABS 252
Country: Nepal (west)
Style: Khasha Malla
Date: 1311
Dimensions in cm WxHxD: 11.5 x 15 x 8
Materials: Gilt copper
Machik Labdrön (1055-1149) is identifiable by the third eye on her forehead and the double drum (damaru)that she wields. Machik Labdrön ("Light of Lab") was a dakini, yogini, mother and master of Chö practice. Born into a Bön Po family, she received the teaching of Chö ("cutting through") from Dampa Sangye, an Indian yogi. The aim of this practice is to sever attachment to the body by offering it in a spiritual sense to the inner demons for consumption. The body is seen here as the seat of the ego and its pathogenic emotions (the inner demons), and attachment to it is therefore regarded as an obstacle on the path to the realisation of the voidness of all things. At the same time, this obstacle is turned into a means for liberation from all attachment.

Machik Labdrön developed a specifically feminine, and Tibetan expression and lineage of this teaching: the doctrine of the Chö of Mahamudra. Like her contemporary Milarepa, she evolved apart from the monastic institutions. She integrated the Indian tradition of the Chö of Aryadeva, which she received from Dampa Sangye, into her own meditation on the Prajnaparamita, and into the doctrine of Vajrayana, which she is said to have received through direct inspiration from Tara. She was subjected to much criticism for the way she lived her life and was made to pass many trials. Her hagiography tells of numerous miracles that she performed in order to convince her critics of her authenticity. The practice of the Chö of Mahamudra was subsequently integrated and passed on by all Tibetan schools of Buddhism.

Machik Labdrön is considered to be the emanation of Yum Chenmo (goddess of primordial emptiness), of Taraand of Vajravarahi, as well as the reincarnation of Yeshe Tsogyal.

An inscription allows the dating of this sculpture to 1311 CE.