Vajradhara with Teachers of the Kagyupa Lineage
See it in the Museum
India and Nepal
Orientation 3
Wall object 11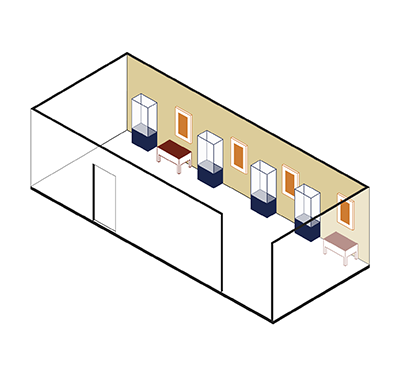 ABP 005
Code: ABP 005
Country: Tibet
Style:
Date: 1300 - 1400
Dimensions in cm WxHxD: 34.5 x 41
Materials: Gouache on cotton
The primordial Buddha Vajradhara, bearer of the vajra.

Buddha Vajradhara resides in his glorious body in the Sambogakaya. In his hands he holds the vajra(thunderbolt) of 'skillful means' and compassion, and the ghanta (bell) of wisdom and knowledge about the emptiness of all things, crossed in front of his chest.
Here Vajradhara is accompanied by monks from the Kagyu lineage. Dignitaries of the two large branches of the order with their black and red headdresses gather around the Adibuddha. At the bottom in the center, two protectors of the teachings are depicted: Mahakala and Shri Devi.