Avalokiteshvara Padmapani - the "Lotus Bearer"
See it in the Museum
India and Nepal
Orientation 3
Display 4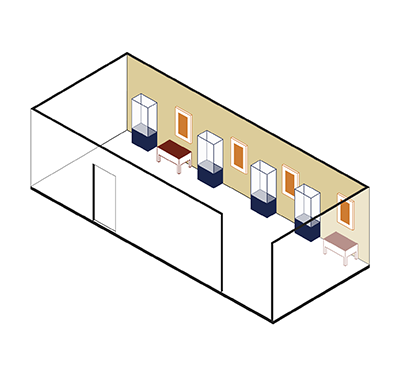 ABS 202
Code: ABS 202
Country: Tibet
Style: Late Pala Style
Date: 1200 - 1300
Dimensions in cm WxHxD: 6.5 x 9.8 x 4
Materials: Brass
Avalokiteshvara Padmapani is seated in the attitude of royal ease (rajalilasana) on a double lotus pedestal with a high rim. With his right hand placed on the right leg the Bodhisattva is displaying the gesture of charity (varada-mudra). He leans on his left arm with the hand placed behind the left thigh. The traces of blue pigment in the hair is a clear indication that this image had earlier been worshipped in Tibet. Images excavated in India have an entirely different archaeological patina.