Buddha Shakyamuni
See it in the Museum
Room 1: India and Nepal
Orientation 3
Display 3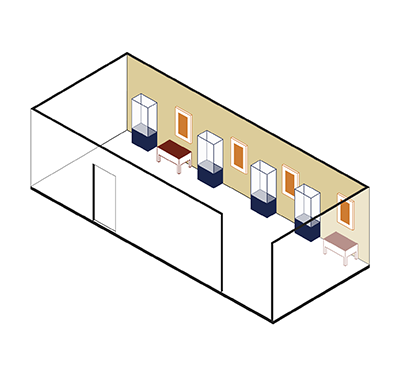 ABS 172
Code: ABS 172
Country: Sri lanka
Style: Late Anuradhapura Period
Date: 850 - 950
Dimensions in cm WxHxD: 3.8 x 9
Materials: Bronze
Shakyamuni

The historical Buddha Shakyamuni is seated in the noble attitude (sattvaparyankasana) on a cushion and holds his hands in the gesture of meditation (dhyana-mudra). 
The upper monastic garment (uttarasanga) covers the left shoulder only. 
The folded shawl (sanghati) is also placed over the left shoulder, which is an indication that this image is unlikely to be earlier than from the 9th century. 
 
Such images of the Buddha in the meditation attitude (samadhi) have remained the most popular depiction in all the Theravada countries such as Sri Lanka, Myanmar, Thailand, Laos and Cambodia. Small and portable bronze images of the Buddha in meditation attitude were usually intended for the worship by monks in their private quarters or by lay people in their homes. Small images were often also deposited in the relic chambers of dagaba monuments (stupas).