Buddha Shakyamuni commemorating the defeat of Mara
See it in the Museum
India and Nepal
Orientation 3
Display 3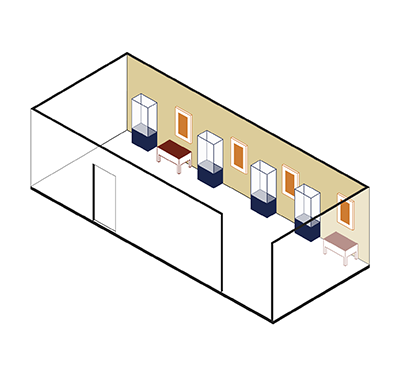 ABS 157
Code: ABS 157
Country: India (north-east)
Style: Late Pala Style
Date: 1050 - 1150
Dimensions in cm WxHxD: 5.5 x 8.1 x 3.8
Materials: Brass
Buddha Shakyamuni

With his gesture (bhumisparsa mudra), the historical Buddha Shakyamuni "takes the earth as a witness" of his victory over his inner demons of doubt, the mara.

This depiction of the historical Buddha reminds us also of the place of his awakening (enlightenment). Bodhgaya in northern India subsequently became the destination of Buddhist pilgrimages to the "eight holy places" (astamahasthana).

The statue was apparently initially mounted on a lotus base, which was subsequently lost. It remains unexplained why a separate base was cast for such a small statue.