Shadakshari-Lokeshvara
See it in the Museum
India and Nepal
Orientation 3
Display 5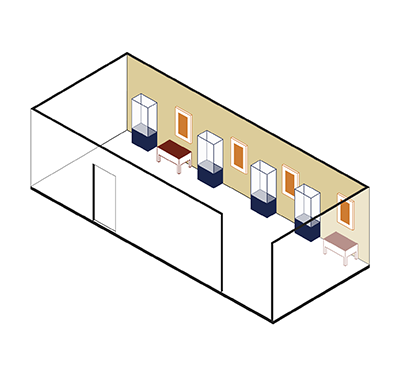 ABS 138
Code: ABS 138
Country: Nepal
Style: Early Malla Period
Date: 1300
Dimensions in cm WxHxD: 8.5 x 11.2 x 6.2
Materials: Gilt copper
Shadakshari Lokeshvara

The four-armed form of bodhisattva Avalokiteshvara is known as Shadakshari Lokeshvara, the bodhisattva of compassion. He is seated in the diamond attitude on a double lotus pedestal. With the main pair of hands, he displays the gesture of respectful salutation. Shadakshari Lokeshvara originally held prayer beads in the upper right hand, and a lotus flower in the upper left hand. He is clad with a length of cloth secured around his waist with a beaded belt. Adorned with precious clothes and jewelry he assumes the royal appearance of divine manifestations. The presence of the inset turquoises indicate that this image was worshipped by Tibetans, since the Newar Buddhists of the Kathmandu valley have a clear preference for transparent precious stones. This image was either exported to Tibet from Nepal, or cast in Tibet by Newar craftsmen for a Tibetan patron. 

Bodhisattvas are the "heroes for the awakening". These advanced practitioners are motivated by compassion, and strive to help all sentient beings to attain liberation on their path to perfect Buddhahood. Their royal adornments symbolise the quality of their spiritual realisation.