Manjushri Siddhaikavira
See it in the Museum
India and Nepal
Orientation 3
Display 2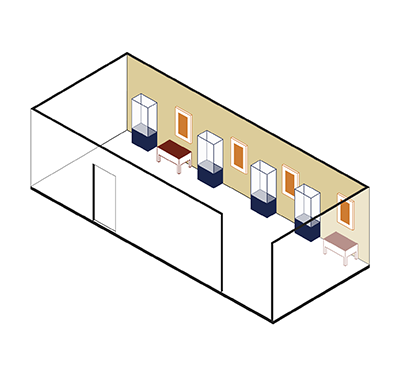 ABS 119
Code: ABS 119
Country: Himalaya
Style: Greater Spiti Area
Date: 1050 - 1150
Dimensions in cm WxHxD: 16.1 x 25 x 13.3
Materials: Brass
Manjushri Siddhaikavira 

The Bodhisattva represents Siddhaikavira, the ascetic form of Manjushri (tib.: Jampalyang). Manjushri is the male equivalent of the female deity Prajnaparamita (Perfection of Wisdom). The meaning of the "Perfection of Wisdom" is to recognise the voidness of all things, which leads to the liberation from the circle of rebirths.  

He is seated in the attitude of the boddhisattva on an unusually shaped double lotus pedestal placed on a rectangular stand with four legs. His right foot is placed on a blossom, and his right hand is extended in the gesture of gift bestowing (varada mudra). With the left hand resting on the right thigh, he holds the stalk of a blue lily (nilotpala). 

The Bodhisattva is clad with a robe that is tied around the waist with a beaded belt. He is adorned with royal ornaments: namely a threefold crown in front of the tall, matted knot of hair (jatamukuta), two earrings of different shape, two necklaces, the lower one with an attached pendant, bracelets at the upper arms, and wrists, and ornaments on the feet.