Buddha Shakyamuni Maravijaya / Akshobhya (?)
See it in the Museum
India and Nepal
Orientation 3
Display 3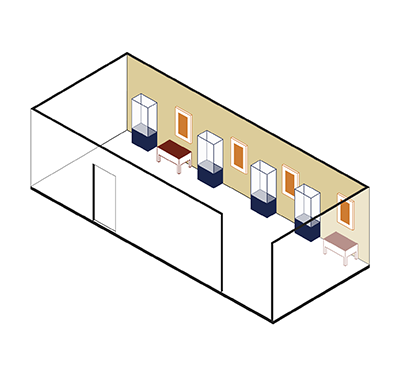 ABS 100
Code: ABS 100
Country: Burma (Myanmar)
Style: Pagan Period
Date: 1100 - 1200
Dimensions in cm WxHxD: 7 x 14 x 6.5
Materials: Brass and copper
Buddha Shakyamuni Maravijaya / Akshobhya (?)

The Buddha is seated cross-legged in meditation on a throne that is supported by two elephants and a lion. Without jewellery or ornaments, he is dressed in the threefold monastic robe of the renunciate and is endowed with the characteristics of "Supreme Beings" (cranial protuberance, curly hair, elongated earlobes...). With his outstretched hand he touches the ground, while his left rests in his lap in contemplation. He is accompanied by two kneeling figures who join their hands in devotion.

Stylistically, his head is rather massive, his forehead broad, his neck short and his build stocky. The body is made of brass, and his clothes of contrasting copper. His robes leave the right shoulder free and are designed without folds except at the ends. These features are typical of the Pala style, which has been adopted in Myanmar and is mainly reproduced in stone sculptures.

The elephants supporting the throne and the gesture of touching the earth, could suggest a representation of the cosmic Buddha Akshobhya, who shares these features. The umbrella of leaves above his head however, are reminiscent of the Bodhi tree and rather suggest a representation of the historical Buddha Shakyamuni at his victory over Mara.