Vajrasattva Primordial Buddha
See it in the Museum
India and Nepal
Orientation 3
Display 2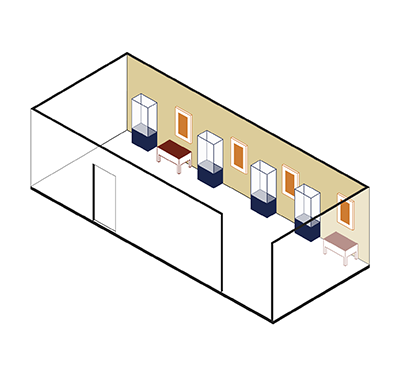 ABS 098
Code: ABS 098
Country: India (north-west)
Style: Spiti / Lahaul Region
Date: 1000 - 1050
Dimensions in cm WxHxD: 6.8 x 15.9 x 4.6
Materials: Brass
Primordial Buddha Vajrasattva 

Primordial Buddha Vajrasattva (tib. Dorje Sempa) is seated in the diamond attitude (vajraparyankasana) on a lotus throne resting upon a square pedestal. 

With his right hand he holds a five-pronged diamond sceptre (vajra) at heart level, and he rings a prayer-bell (ghanta) with the left hand. The vajra symbolizes the male principle of compassion, and the ghanta the female principle of wisdom. Together, they represent the "skillful means" on the path to enlightenment
 
Vajrasattva is clad with a cloth (dhoti) tied around his waist with a beaded belt. The ends of a ribbon-like scarf are swirling upwards to his sides. He is adorned with a three-pointed crown in front of the matted knot of hair (jatamukuta), a pair of circular earrings, a necklace, and bracelets on upper arms and wrists. His body is encircled by a broad aureole (prabhamandala), and his head set off against a second, pointed aureole.