Buddha Shakyamuni commemorating the defeat of Mara
See it in the Museum
India and Nepal
Orientation 3
Display 4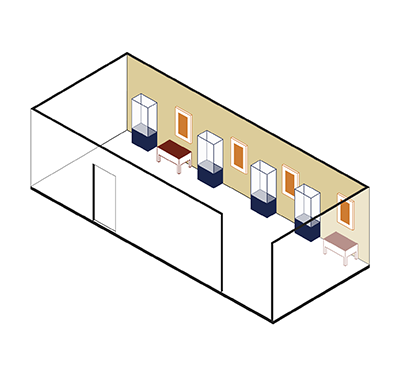 ABS 087
Code: ABS 087
Country: Tibet
Style:
Date: 1100 - 1200
Dimensions in cm WxHxD: 21.9 x 29.5 x 11.7
Materials: Brass
Buddha Shakyamuni commemorating the defeat of Mara

The Buddha is seated in the meditation posture and was originally mounted upon a lotus pedestal. He rests the left hand in the lap and extends the right hand in the gesture of touching the earth (bhumisparsha-mudra). The upper monastic garment (uttarasanga) is rendered in a transparent manner and covers the left shoulder only. Although the style of this Buddha retains some influence of the Pala Schools of North-Eastern India, the image reflects a distinct Tibetan flair.