Buddha Shakyamuni
See it in the Museum
India and Nepal
Orientation 3
Display 3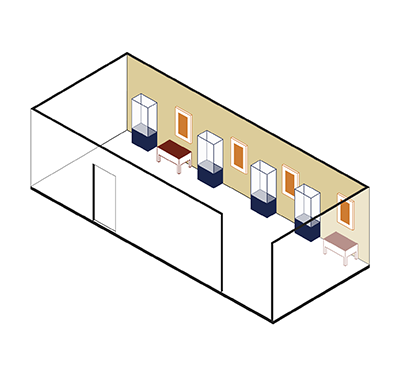 ABS 064
Code: ABS 064
Country: Sri Lanka
Style: Late Anuradhapura Period
Date: 850 - 950
Dimensions in cm WxHxD: 10.5 x 13 x 5.7
Materials: Bronze
Buddha Shakyamuni 

Sri Lanka, solid cast in one piece.
 
The Buddha is seated in the noble attitude (sattvaparyankasana) on a cushion and holds both hands in the "gesture of meditation (dhyana-mudra). The upper monastic garment (uttarasanga) is rendered with few folds and covers only the left shoulder. The hair is surmounted by a prominent "wish-fulfilling jewel" (cintamani). 
 
Such images of Buddha Shakyamuni in meditation attitude (samadhi) have remained the prevalent depiction of Buddha in all the Theravada countries such as Sri Lanka, Myanmar, Thailand, Laos and Cambodia.