Buddha Shakyamuni as World Sovereign
See it in the Museum
India and Nepal
Orientation 3
Display 2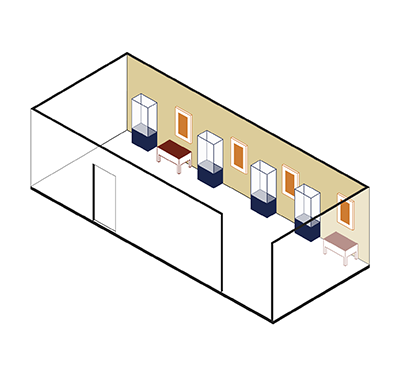 ABS 011
Code: ABS 011
Country: India (north-west)
Style: Kashmir Region
Date: 678 - 679
Dimensions in cm WxHxD: 10.5 x 22 x 7.7
Materials: Brass
Buddha Shakyamuni as world sovereign 
 
In the north of present-day Pakistan, the Gilgit Valley is situated on an ancient caravan route that connected Gandhara with the Tarim kingdoms beyond the Karakoram. These areas are now under Chinese control. The Patola-Shahi dynasty ruled this valley.
The Gilgit statuary is classified as Kashmiri art and presents two distinctive features: The donors of the artwork are depicted on the side of the base, and many artworks are precisely dated. This statue bears an inscription naming the patrons: a lady named Surabhi and the monk named Shaka Harisatashasya. An inscription dates the artwork to the year 54 in the cyclic era of Laudika, which corresponds to the year 678-79 of our era. Part of the characteristic base are the two lions that often accompany Buddha Shakyamuni.