Crowned Buddha Shakyamuni as World Sovereign
See it in the Museum
India and Nepal
Orientation 3
Display 3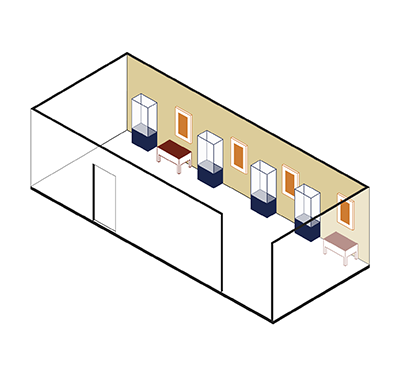 ABS 005
Code: ABS 005
Country: Burma (Myanmar)
Style: Pagan Period
Date: 1100 - 1200
Dimensions in cm WxHxD: 7.3 x 11.2 x 5.6
Materials: Bronze; inlaid with silver and copper
Crowned Buddha Shakyamuni as "World Sovereign" 

The crowned Buddha Shakyamuni is called Chakravartin, which means literally "he who rules by the wheel". The wheel, as one of the seven emblems of spiritual power, also serves as a vehicle to traverse the spatial expanse in an instant. The "turning of the wheel" stands for worldly and spiritual authority and the creation of new ethics and morals. In the sphere of Sambogakaya, the "body of bliss" of the Bodhisattvas is decorated with crowns and jewels, which express their supernatural and divine qualities. The panels of the crown are considered to symbolize the qualities of the five Tathagatas.
According to tradition, the crowned Buddha Shakyamuni transmitted and entrusted the Kalachakra teachings to the first king of the parallel mystical realm of Shambhala, until the world would be ready to receive these teachings.