Sculpted bone with Dakini Vajrayogini
See it in the Museum
Chapel
Orientation 3
Display 5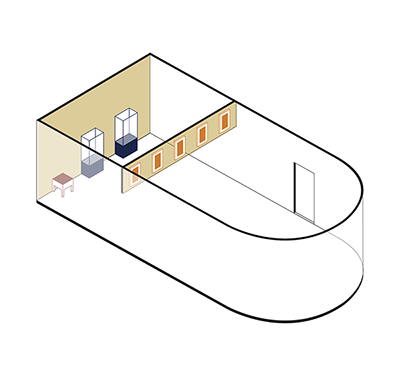 ABR 047
Code: ABR 047
Country: Tibet
Style:
Date: 1500 - 1600
Dimensions in cm WxHxD: 4.2 x 14.5 x 3
Materials: Bone
Bone sculpted ornament, part of the ceremonial apron using during dances for tantric rituals and ritual dances. 

Vajrayogini

Vajrayogini or Vajravarahi (Tibetan: Dorje Naljorma, English: the Vajra yogini; also Tibetan: Dorje Phagmo, Wylie: rdo-rje phag-mo, English: the Vajra Sow) is a dakini, a tantric Buddhist yidamwhose sadhana(practice) originated in India between the 10th and 12th century. She is often associated with triumph over ignorance as well as with abandonment (one of her hidden aspects is Varuni, Hinduist goddess of alcohol and intoxication). Vajrayogini is visualized as the translucent, deep red form of a 16 years old female with the third eye of wisdom set vertically on her forehead. She is often pictured with a sow and is an important deity for tantric initiation, especially for new initiates – Vajrayogini's practice is said to be well-suited to those with strong desirous attachment, and to those living in the current "degenerate age". Her consort is Chakrasamvara, who is often depicted as a spear on Vajrayogini's shoulder. Vajrayogini and her iconography are also closely associated with the Hindu goddess Chinnamasta.
Vajrayogini is the yidamthat a meditator identifies with when practicing Six yogas of Naropa
In Tibet the abbess of Samding monastery, on the shores of the Yamdrok Tso Lake near Gyantse, was traditionally a tulku of Dorje Phagmo. The current incarnation resides in Lhasa.

Beer, Robert , 2003. Les symboles du bouddhisme Tibétain. Albin Michel. Pp. 143-151