Crowned Buddha Shakyamuni as World Sovereign
See it in the Museum
Room 1: India and Nepal
Orientation 3
Display 3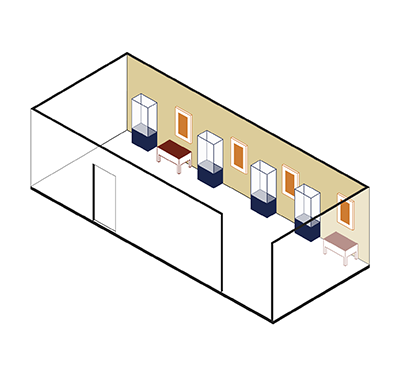 ABS 247
Code: ABS 247
Country: Burma (myanmar)
Style: Pagan Period
Date: 1000 - 1100
Dimensions in cm WxHxD: 9.8 x 13 x 5.4
Materials: Brass and copper
This crowned Buddha represents the historical Shakyamuni and not Aksobhya – one of the five Tathagatas or transcendental Buddhas. The art of Pagan in Upper Burma was very much influenced by the Eastern Indian art styles. In particular the Buddhist art of the Pala Schools had a great impact upon the development of the art of Pagan during the 11th and 12th century. Although numerous crowned Buddhas are known in the art of Pagan, images inlaid to such an extent are extremely rare.

Beer, Robert , 1999. The Encyclopedia of Tibetan Symbols and Motives. Boston: Shambala.
Heller, Amy, 1999. Tibetan Art Tracing the Development of Spiritual Ideals and Art in Tibet 600-2000 A.D.. Jaca Books.
Sèngué, Tcheuky, 2002. Petite Encyclopédie des Divinités et symboles du Bouddhisme Tibétain. Editions Claire Lumiere .
von Schroeder, Ulrich, 2010. Buddhist Sculptures of the Alain Bordier Foundation. Hong Kong: Visual Dharma Publications, Ltd.. pp. 20-21; plate 7A