Ritual bell with diamond sceptre handle (vajraghanta)
See it in the Museum
Chapel
Orientation 3
Display 6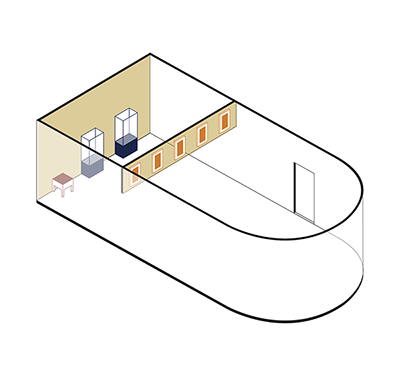 ABR 024
Code: ABR 024
Country: Tibet
Style: Sino Tibetan
Date: 1400 - 1500
Dimensions in cm WxHxD: 10.4 x 22.8 x 10.4
Materials: Brass
(Together with ABR 026)

The ghanta (Skt.), known in Tibetan as Dril bu (Tib.) («dribu») represents a "bell, prayer-bell". It symbolizes the female principle of the transcendent void as a symbol of absolute wisdom. N.B. when the bell is surmounted by a vajra, it is called vajraghanta. It forms a pair with the vajra that symbolizes the male principle.


The Bell
 
A bell can be eight, twelve, sixteen, eighteen or twenty-two finger-widths in height. Its base must be round, above which is a vase surmounted by the face of the goddess Prajnaparamita. Above these are a lotus, a moon disc and finally a vajra.
 
The hollow of the bell symbolizes the wisdom cognizing emptiness. The clapper represents the sound of emptiness. The eight lotus petals are the four mothers and four goddesses, and the vase represents the vase containing the nectar of accomplishment.
 
Paired with the vajra the bell represents wisdom, and as wisdom and method are an undivided unity so the vajra and bell are never parted or employed separately.
Beer, Robert , 2003. Les symboles du bouddhisme Tibétain. Albin Michel. Pp. 151-155
Béguin, Gilles, 2013. Art sacré du Tibet – Collection Alain Bordier, [catalogue of the exhibition held at the Fondation Pierre Bergé – Ives Saint Laurent; 14 mars au 21 juillet 2013]. Paris: Fondation Pierre Bergé – Ives Saint Laurent. Editions Findakli. Pp. 220 - 221
von Schroeder, Ulrich and von Schroeder, Heidi, 2009. Tibetan Art of the Alain Bordier Foundation. Hong Kong: Visual Dharma Publications. Pp. 34–35; plate 11