Begging bowl container
See it in the Museum
Chapel
Orientation 1
Plinth 3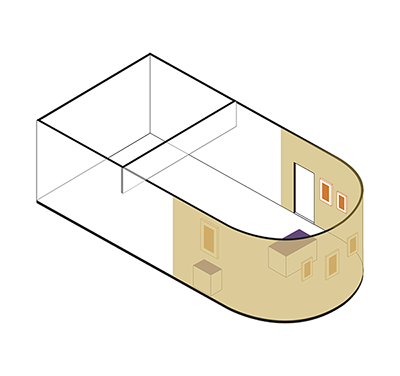 ABR 016
Code: ABR 016
Country: Tibet
Style:
Date: 1400 - 1500
Dimensions in cm WxHxD: 19 x 12 x 19
Materials: Brass
Cast in two parts.
 
This extremely rare begging bowl container is cast in two parts. The circular sections decorated in high relief are divided by beaded strings of pearls. The circular top section of the cover is decorated with a pair of dragons. Divided by a meander band from the top panel is a section decorated with four dragons. Divide by a beaded string of pearls is another section decorated in high relief with the "Eight Auspicious Objects" (astamangala)(Tib. bKra shis rtags brgyad): weel (cakra), parasol (chattra), banner (dhvaja), water-pot (kalasa), pair of fish (matsyayugma), lotus flower (padma), conch (sankha), endless knot (srivatsa). A section with an identical decoration also composed of the "Eight Auspicious Objects" forms the upper section of the lower part of the container. Below are representations of animals forming a circular band composed of two tigers, two elephants, two deers, one lion and one dog. The circular bottom section of the container is plain brass without any decoration.
 
This container contains a begging bowl (patra) wich must have belonged to an important Tibetan Buddhist teacher-whose identity has not been recorded.
Beer, Robert , 2003. Les symboles du bouddhisme Tibétain. Albin Michel. Pp. 300-301